Andrew M.
100.0

out of

100
based on
2
ratings.
2
user reviews
Designed by Syney's Top Web Design Company www.elitegraphics.com.au
This package is designed to provide your small business an amzing looking website and have it optimised ready for google.
You will get a amazing CMS website (+blog) that can be easily maintained by you the client with log on features.
We are Sydney's number 1 graphic design company so we know exactly what look and style is needed to get your business ready for the web. Visit our website to see our works: www.elitegraphics.com.au
8 Easy steps for you website design:
1
What is a domain name?
The domain name is the name of your website. For example, the domain name of google is google.com.
Register for a Domain Name*
Please visit a web hosting site, preferably in your own country for a faster load time. Purchase hosting and regester your domain name (This should cost from $10-$50) If you are australian I recommend crazydomains.com.au
2
Why do I need a new email?
You don't need new emails though having an email with your url at the end looks much more professional then having yahoo.com or gmail at the end.
We will set up custom emails for your domain.
Now that you have a domain name, we can create the email addresses that you want. It is recommended to use 'info', 'sales', 'support' or something simple for clients to remember.
3
What is CMS?
A Content Management System (CMS) is a piece of software that runs on a server. Typically a database application, a CMS makes it easy to publish and administrate content.
We will install your website CMS system on your URL
We will install the latest version of the content management system called 'Wordpress'. It will allow you to easily add new pages or publish new blog posts without requiring any technical skills or software, all you need is an internet connection.
4
Timeframe?
We have a team of very skilled designers that will have your website designed within 4-10 working days.
We design you an AMAZING website to the look and feel you requested.
We know our stuff! We urge you to look at our website www.elitegraphics.com.au as we know you will be impressed with what we can provide you.
5
What do we need to provide you?
Any text you want on your website, a basic site map of what you want linking to what and just any pictures you want included.
Integrate content
We will integrate the content you will give us in a text format and also add our own little bits to make your site just that much better.
6
What is Graphic Design included
image gallery, header and home page all custom designed to what you requested.
Graphic Design your website
We not only design you an amazing website, we will graphic design your images to give your website a custom look and great feel. Worth hundreds but included FREE!
7
Why do I need this
Many web designers miss this step as they know the client probably wouldn't notice. We like to make sure all our web designs are working to their full potential this is why we do this to your site.
On site optimization for google
We will integrate meta tag coding and install the best SEO plugins to make sure your site is running at its full potential for google.
8
What now?
Now you're finished! Get your website out there, start blogging do whatever you do best and enjoy your new web design.
The keys are yours! Enjoy
The website design is finished usually within 4-10 working days. You will recive your log on and password for your new website.
Deliverables
CMS Website Design
Blogs
PHP Contact Form
Photo Gallery
Past experiences
Websites designed by us (www.elitegraphics.com.au)
- http://www.whalewatchingsydney.net//
- http://www.goodlifehealthclubs.com.au/
- http://sydbootcamp.com.au/
- http://www.metalicus.com/
Services offered by Andrew M.
Related services
No item found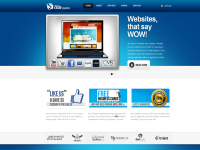 Order for $500
Get a full refund if not satisfied
About Andrew M.
Senior Graphic Designer of: www.elitegraphics.com.au - 4 Years experiance - 2 years head of a web design company - Advanced Graphic Design Diploma - Marketing Cert 4 Cert Elite Graphics is an award-winning graphic design company that specialises in high quality design creations. Specialising in graphic design, logo design, web design and much more. Our work has been featured on some o...
find web developer +blog
cms website